At this stage, due to the custom nature of my work, most orders are placed by using the contact me form. See my 2015 line sheet and the videos below for examples of my work.
For truly custom work beyond what you see in any example ...
In a nut shell, there are too many options to actually document in a list. Circles, ovals, hearts, rectangles and squares are all possible, not to mention custom shapes and different kinds of metals. I can also set a gemstone cabochon on a pendant and stamp around it. I also do beading most often using gemstone beads for necklaces, bracelets and earrings.If you have an idea for a custom stamped piece of jewellery, drop me a line and we can see if it is within my parameters.
Easy online ordering
I have an Etsy shop with a few standard designs available for personalising and a few one off items ready to be shipped. I am planning to add to my Etsy offerings regularly. I intend adding most of the items in my line sheet to my Etsy shop.
Click on the image link below to view a Facebook testimonial: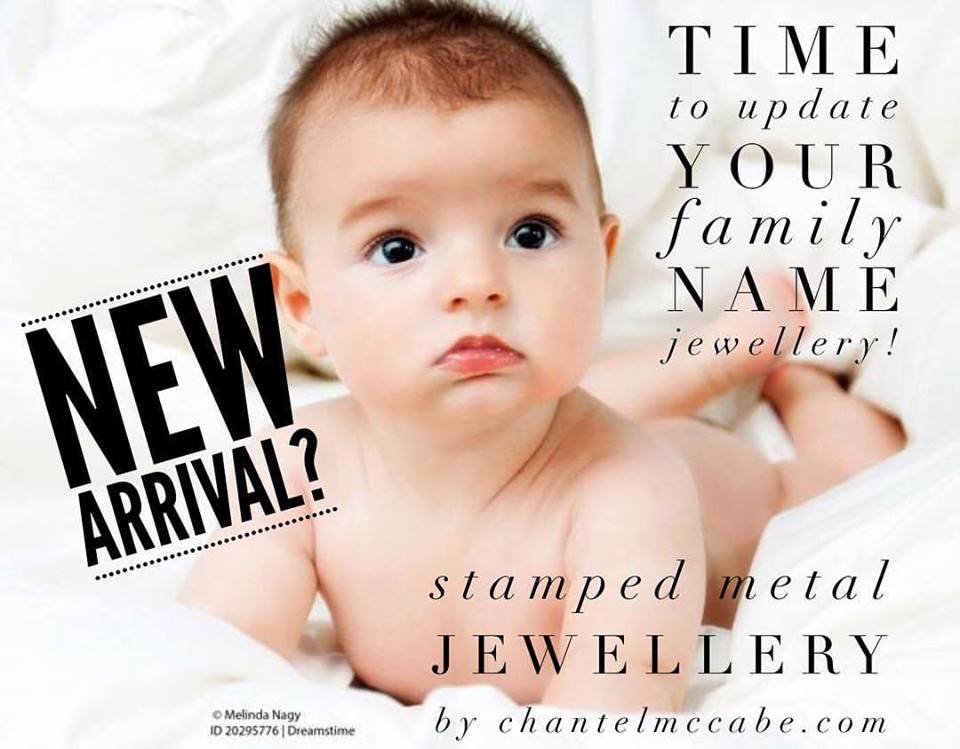 New Product: bar pendants
I introduced 6mm bar pendants in December 2014. I have now introduced a more petite 4.5mm version. All bar pendants: can be designed to be worn either vertically or horizontally, they can be made any length, can be stamped on all four sides and are available in sterling silver, Argentium and 9 carat gold in both sizes and may have to be ordered before I can make your order. I currently have 4.5mm sterling silver in stock. 6mm copper will be here soon!
2015 Product Line
Please contact me if you would like a PDF of this document emailed to you.
Product update coming soon: 9 carat gold washer pendants! Nice and thick heirloom quality and suitable for double-sided stamping!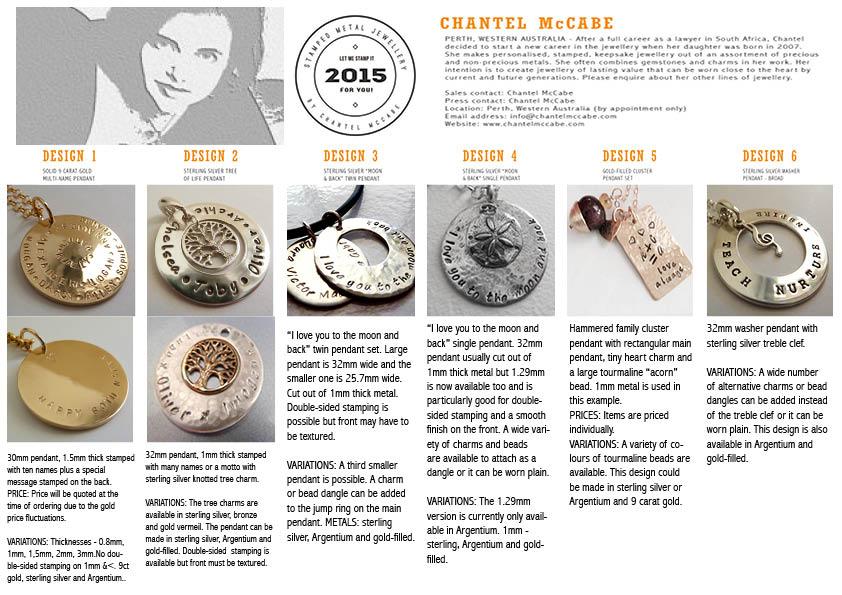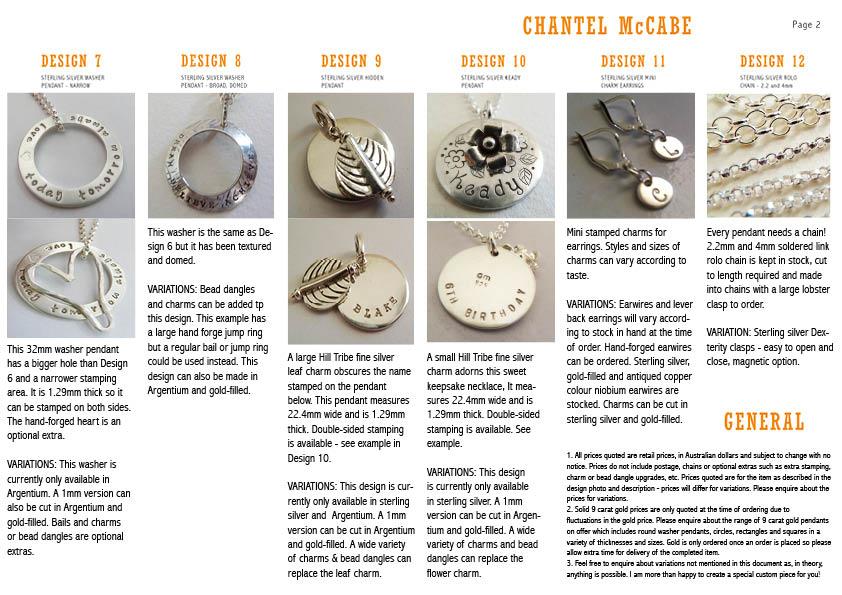 Sign up for our infrequent newletters, updates and special offers here.
Circles and Ovals
As used in my Minimalist range of stamped metal jewellery
Smaller, lighter, petite, more cost effective ... these are some of the attributes offered by my Minimalist range. The smaller discs are simply stamped with an initial or a design stamp such as a heart, flower, bird, etc.
These shapes are available in 9 carat gold, traditional sterling silver and Argentium sterling silver.
These shapes and sizes are all available by special order only as I do not them as standard stock. (HOWEVER, I do cut circles and hearts in assorted sizes and thicknesses myself and they are available immediately. Further details the Minimalist page.)
Please allow for at least an extra week or so for delivery if you want to order any of these items. Due to the fact that the gold price fluctuates, your price will be set at the date the gold order is placed with the metal merchant.
These shapes are available in two thicknesses: 0.8mm and 1mm
The following sizes of circles are available:
5mm; 6mm; 8mm; 10mm; 12mm; 14mm; 16mm; 18mm; 20mm; 25mm and 30mm.
The following sizes of ovals are available:
10x6mm; 14x8.4mm, 16x9.6mm and 20x12mm